Vistadome coach in Dooars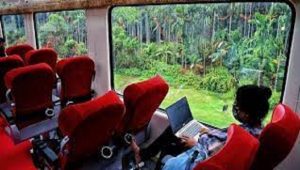 From 28th August Vistadome coach in Dooars tourism has been added. The new addition to the Doors Tour package is the North East Frontier Rail's Vistadome coach.  This is a special train with non-AC chair car, AC chair car and a Vistadome coach.
This train starts from New Jalpaiguri at 7.20 am (05777) and reaches New Alipurduar at 1 pm. It departs from New Alipurduar (05778) at 2 pm and returns to New Jalpaiguri station at 7 pm.  The stations on the Vistadome train are Siliguri, Sevok road, New mall junction, Chalsa, Madarihat, Hasinara, Rajabhatkhaea and  Newalipurduar respectively.
Earlier, this Vistadome coach used the toy train of Himalayan Heritage or Darjeeling Toy Train.
The journey of this Vistadome coach from Dooars is extraordinary.  As the train travels through the jungle, the scenery outside its windows and the free movement of wildlife can be visualized.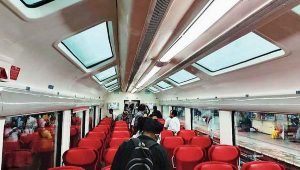 For the entertainment of the passengers, the Vistadome coach's tour includes a variety of meals, especially Darjeeling tea.
This special train will have a total of 7 coaches with 44 seats.
The seats inside the Vistadome coach and the color of the carpet is red.  If you want to see the breathtaking scenery and sip a cup of Darjeeling tea, you must visit this Vistadome coach.  The ticket scaffolding of this train is non AC General Chaircar @ Rs.85, Ac chaircar @ Rs.310 and Vistadome Coach fare @ Rs.770 respectively.
ForVistadome coach booking onlinevisit https://www.irctc.co.in/nget/train-search.